Iceland: Waterfalls, Glaciers, Rainbows + Hot Springs!
Iceland (or "Island" in Icelandic) has enjoyed a surge in tourism over the past few years, partly due to both of its national airlines offering, encouraging, and helping plan free layover trips – up to one week! – on flights between the US and Europe. During my 9-day visit, I met dozens of travelers who had just come for the weekend on the way to a business trip to London or who were staying for a week before a longer trip to France or Ireland. Though I had heard from many people that Iceland was beautiful, I could not have anticipated the level or density of beauty. A popular route for weekend visitors is a road trip to Vik, about two hours south of Reykjavik. That two-hour drive turns into a day trip as it's packed with majestic waterfalls, black sand beaches, geothermal hot spring pools, and hiking routes along Sound of Music-like backdrops.
I tend toward public transportation and hitchhiking in my trips because it's more eco-friendly, cheaper, and allows me to meet locals and enjoy authentic experiences that wouldn't be possible in a tour bus or car. That said, Iceland is the perfect fly-and-drive location. Keflavik airport is nearly an hour drive outside of Reykjavik so most travelers simply get a rental car right at the airport though there are several shuttle bus companies that will take you directly to your hotel (for about US $25). The main tourist sites are accessible by well-paved roads and clearly marked by a white and blue "landmark sign". Iceland also has a well-organized "Iceland On Your Own" bus system for tourists traveling without a car. Bus schedules are posted at main attractions and campsites are located all across the island. That said, I was extremely satisfied with my decision to rent a car with three other travelers, which wound up to be our hotel for a few nights!
One of my favorite points of the trip was the massive Seljalandsfoss waterfall that flowed in front of a large cavern where tourists passed through to take pictures of the roaring water falling behind. Smart tourists who weren't rushing to the next destination walked 5 minutes down the path to a small stream that passed through a narrow opening in the rocks. Those of us unopposed to getting our shoes wet balanced on rocks and slipped between the narrow opening to find ourselves in front of a smaller, slightly hidden waterfall. The Skogafoss waterfall provided the backdrop to models doing a photo shoot and a peaceful soundtrack to the dozens of campers who had pitched their tent at the campsite at the base of the waterfall. The daunting 200-foot climb up the side of the waterfall (approximately 20 stories high) proved to be one of the best decisions of the trip. Flocks of sheep grazed next to the walking paths and we watched the sun set over rolling hills, rivers, and smaller waterfalls along the route.
It was pitch black by the time we arrived at Seljavallalaug, the oldest natural pool in Iceland, so we used flash lights, phone lights, and occasionally held hands as we made our way through a half-mile of uneven terrain. A half-mile may not seem far during the day, but in the dark, it is a long way to avoid holes, logs, and puddles. We somehow lost the main path, which wasn't particularly well-defined to begin with, and found ourselves sliding down a small, rocky hill to get to the pool, also lit only by the moon. Many of Icelands outdoor natural pools provide changing facilities and bathrooms (sometimes!) but are not staffed and offer no electricity.
The following morning, we hiked several miles along a black sand beach to an abandoned US military plane. The GPS coordinates are listed on travel sites but the site itself is unmarked on the road. After Justin Bieber skateboarded on top of the plane in one of his music videos (which actually does a great job showing Iceland's landscape), the attraction grew in popularity and the dozen cars parked on the side of the road in the middle of nowhere alerted us to where we should begin hiking toward the sea. We then visited caves and coastal formations in Reynisfjara, offering some of the most spectacular cliffs I've ever seen. Mind you, everything I just described is along the 2-hour drive south of Rejkyavik and can be seen during a daytrip. We did it in 2 days though a third day would allow for more hiking. Two of the most famous attractions near Reykjavik are the Selfoss double waterfall (similar to Niagara Falls), and Geysir, a large geyser, are part of the popular Golden Circle route and could be included in a day trip.
We enjoyed great fortune during our 5-day road trip but I wouldn't recommend others to go in the fall, which turned out to be the rainy season. It rained 7 days straight, particularly unfortunate the nights that we were camping. Despite some large downpours, most rain was relatively light and only lasted a few hours so we were still able to hike along glaciers, through national parks, and visit quite a few outdoor hot spring pools where we gazed at mountains and fields as we soaked in thermal water. That said, I was really glad to have packed proper travel gear for the weather. huge upside to all the rain was the dozens of rainbows that covered the sky during our trip. At least five rainbows appeared during a 45-minute drive between our Svinafell Glacier hike the Jokulsarlon Glaciers, where we watched seals swim along a beach covered in car-sized ice blocks that floated down from the glaciers. At one point, we actually grew tired of pointing out waterfalls and rainbows – Iceland's naturally is so dense that we began to take it for granted!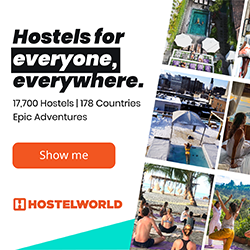 Though Iceland's population is around 300,000, the island is home to about 1,000,000 sheep in the summer. All across the island, sheep roamed along the side of the road near fields of moss, small farm villages, or derelict barns buried under generations of grass. My host in Reykjavik took me to a rettir, the annual sheep round up, which happens each fall. Thousands of sheep who have spent the summer in the highlands are rounded up at different farms across the country. Families, children, elderly people and teenagers roamed around the large oval pen drinking beer, laughing, and grabbing sheep to haul them to the pen they corresponded to.
On the way back to Reykjavik, we sat several hours on the road, stuck behind a few dozen sheep who were slowly being driven from the rettir to their farm. The farmers rode on horses next to the sheep, laughing, joking, and too drunk to care that cars were backed up for miles, unable to get around the sheep on the one-lane road. My host explained that Icelanders are patient people and the rettir is of such cultural importance that they do not get mad to sit several hours behind sheep on the road. "The sheep are beautiful" she told me, as I tried to suppress my New Yorker sense of urgency. As we waited, she told me how her son is part of the mountain volunteer rescue group, which exists almost exclusively to rescue "stupid tourists" who don't believe warning signs and get swept away into rapid, icy currents or who scald their skin on geyser water that they thought "can't be that hot."
I spent relatively little time in Reykjavik since I wanted to maximize time spent in nature. In 36 hours, I went salsa dancing, soaked in an outdoor thermal pool downtown (during a rainstorm), viewed the entire city from the top of the Hallgrímskirkja Church, checked out Freddi arcade bar to play vintage video game consoles and arcade games, toured the famous Harpa performing arts building, and visited the Phallological museum where hundreds of pickled penis are displayed along with phallic-themed cartoons, loin cloths from indigenous groups, and a letter from a man who donated his penis to the museum while he was still living. Though I ate all my meals at home or campsites (we shopped at semi-affordable Bonus supermarket), I enjoyed visiting convenience stores and restaurants to check out the prices. Iceland, like many islands, is known for extremely high prices, particularly on food.
Falafel sandwiches cost $20 at sit-down restaurants and "only" $15 at a quick-serve Middle-Eastern joint. Omelettes were around $20 and I saw hot dog carts selling hot dogs for $10. Several convenience stores sold small bags of four apples for $10. Also in the $10 club was a box of Cheerios, a bag of four small bananas, and a peanut butter sandwich. A very popular item sold everywhere was Skyr, which was also advertised in the WOW Airlines in-flight magazine and on large billboards around the airport. It looked exactly like yogurt but was only referred to as a "high protein food". I wondered why none of the ads or containers said it was yogurt. Was it soylent green? Though it looked like Greek yogurt, my Icelandic friends were adamant that it is NOT yogurt, it is simply "Skyr". It is similar to yogurt but it is made from a different culture and is unique to Iceland.
Iceland has placed itself toward the top of my favorite destinations, right up there with Mexico and Cuba (for very different reasons). Given the clouds and rain, the Northern Lights were not visible a single night during my trip and are most visible during clear winter months so I plan to make a stopover in Iceland next time I visit Europe in the winter. I also plan to return to Iceland in the summer time in order to view puffins, whales, and to scuba dive along the continental divide. Stay tuned!